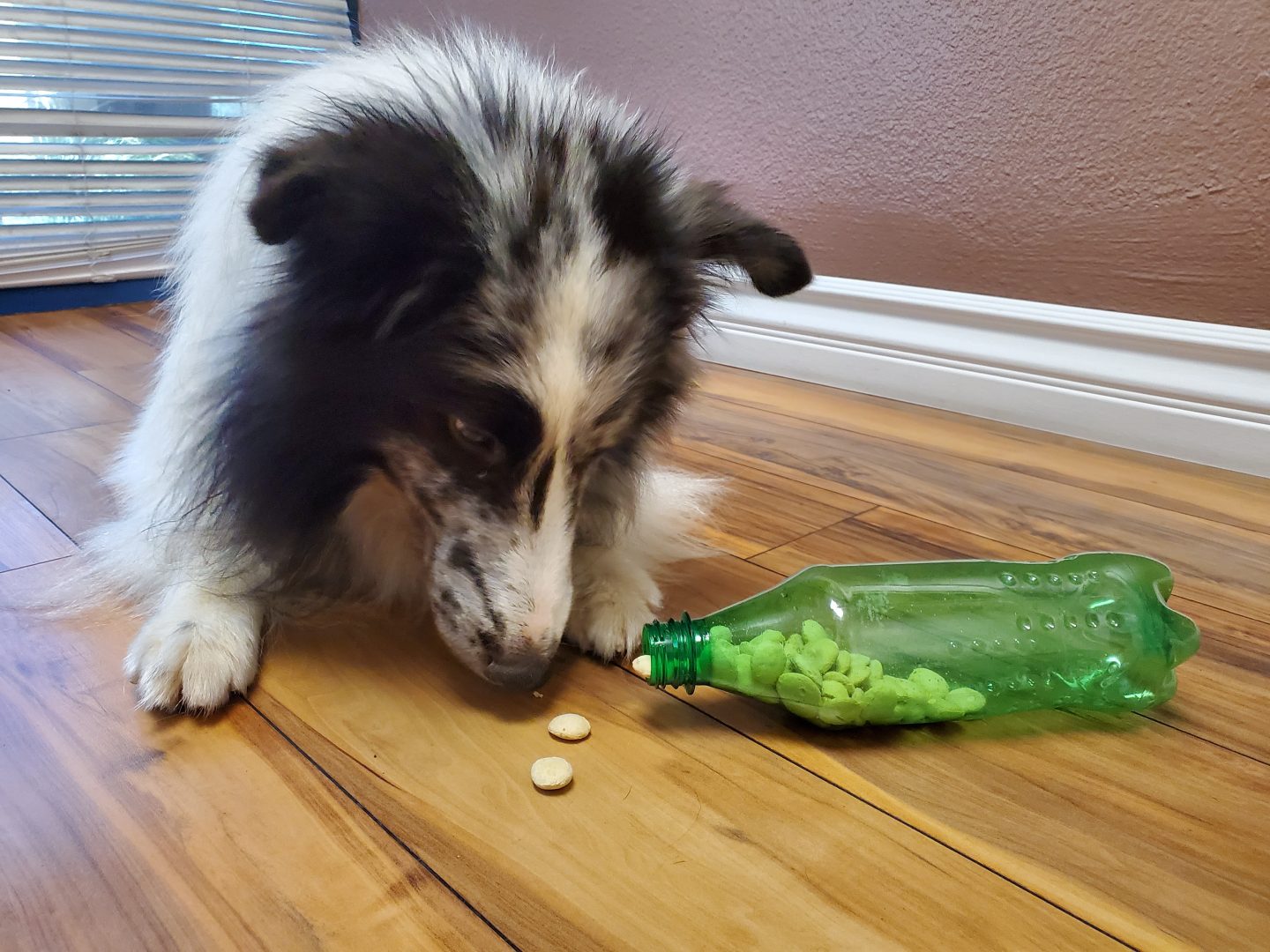 It isn't a secret that stimulating your dog's mind is among the things that contribute to their happiness. What you may not have considered is "the power of choice". Free Canine Enrichment is a hot topic now among dog enthusiasts.
Humans decide every factor of a dog's life, from when they eat to where they potty. Putting some choice back into their lives through puzzles, games and enrichment can add to that stimulation.
Canine Enrichment is a broad name for this stimulation. This is an outlet for dogs' instincts. Most bad dog behavior is instinctual behavior that has not been redirected into an acceptable activity. Enrichment can be bonding, training, confidence building, or behavior rehab.
Get Started - FREE Canine Enrichment Program at Wags & Wiggles:
Step 2: Join our FREE Canine Enrichment Facebook Group so you can join the FREE 10 day Canine Enrichment Challenge. This Challenge will start in October.
Step 3:  Watch our Introduction to Canine Enrichment Video: Scatter Feeding (shown at bottom of blog)
What is the Challenge?
Wags & Wiggles FREE 10 Day Canine Enrichment Challenge will help you stay in line with a program of enrichment -- a joyous project for you and your dog. We will provide you with daily challenges that can be adjusted to suit your dog, their lifestyle, and even other species you have at home.
The best way to stick to the program is to tell everyone that you are doing it – share your photos and videos, post on social media, and best of all, let us know how you and your dog are doing! Join our group to stay in with the discussion and sharing.
When does it start?
Our challenge starts on Monday, October 7th, 2019. We will post a new challenge on Monday, Wednesday, and Fridays via the FB Group. This will give you time to complete the enrichment activity before the next one is posted and catch up over the weekends. The challenge will end on October 28, 2019.
The enrichment challenge videos are placed in the Canine Enrichment Playlist on the Wags & Wiggles Youtube Channel so you can refer back and share with friends.
Let's get you started by downloading the FREE Canine Enrichment Guide. It will give you some ideas to start with. However, the FREE 10 Day Canine Enrichment Challenge will be focused on things that are FREE!
Why does my dog need enrichment?
All age dogs can benefit from enrichment.  It can literally map new connections in your dog's brain. The dog brain, like the human brain, is a complicated muscle with lots of neurological pathways. According to the latest research, play and ongoing novel mental stimulation can delay the onset of age-related brain disease (think doggie dementia). There is nothing better than watching an aging dog find new joy in life through Canine Enrichment.
Reducing barking, lunging, guarding, and pulling can involve Canine Enrichment when used with a positive reinforcement training plan. It only requires take a few minutes out of your day. It can fit into your daily schedule or be a special occasion. When dogs are under-stimulated, they tend to find jobs they should not be doing. Landscaping and house remodeling should be left to humans.
Before You Start
Before you dive into Canine Enrichment, you might want to consider a few things.
Not all dogs learn the same way. Some needs lots of encouragement. The games may need to be extremely simple in order to build their confidence. Other dogs offer tons of behavior and might get a little crazy about it. In our Free 10 Day Canine Enrichment Challenge we will give you variations of every game based on your dog's learning style.
Using established commands can assist your dog through an enrichment exercise. If you want them to use their paws, you can cue something like "shake," and put your hand over the object. Brain teasers usually have more than one solution. It can be surprising to see which technique your dog decides to try.
You should definitely praise your dog's efforts to figure out the puzzle or enrichment challenge. Don't worry, the timing of the praise isn't as important for enrichment as it is for training basic dog cues. Whenever your dog is successful, you should praise. The reward will already be right there in the puzzle or game for the dog.
Enrichment doesn't just mean food.  We loosely base our approach on the Shape of Enrichment Categories: social, cognitive, habitat, sensory and food. We will touch upon non-food enrichment in the Free 10 Day Canine Enrichment Challenge, but will dive deeper in the Canine Mastermind Online Course (Launching November 2019).
Prep the area
Select an area of your house that you will start your enrichment games. It may involve food being on the ground or being tossed so make sure the area is safe and clean. Many of these games will involve using objects. You don't want your dog to think everything in the house should be played with, just the enrichment items.
Lots of puzzles will reuse items such as packing and containers. Carefully check all items and remove loose or unsafe bits such as lids, staples, tape, plastic pieces or loose parts.
Safety In Mind
Know your dog's puzzling, chewing and play styles. For example, do they have a tendency to ingest non-food items? Some adjustments and close supervision may be required for some individuals. For instance, you may need to switch out a cardboard box for a hard plastic box so they don't eat the cardboard.
It's a good idea to have a pocketful of HIGH value treats while your pet is puzzling with a new object. If they attempt to ingest or chew something inappropriate, quickly toss some of these treats across your dog's line of vision to redirect their attention and pick up the puzzle.
If you have more than one dog participating, many will prefer just to work on each puzzle alone. Use separate rooms or a baby gate. This may be especially true in cases where the dogs resource guard from each other.
Have your refills ready
Once the dog gets into the groove, you don't want the fun to stop right away. You will usually complete several repetitions. The less you interrupt the flow of the game the quicker your dog learns. Don't use all your food or treats up in the first go around. Keep the leftover handy to do the exercise again.
Prepare for the end
Canine Enrichment should be done in small doses to start. Thinking can be tiring! You don't want your dog to give up or get frantic. If your dog is very active with little to no "off switch," then have a bone ready for them to settle down and chew on after the enrichment. This will help them turn on after the excitement.
With everything you do with your dog, there needs to be balance. You want a healthy mix of exercise, mental stimulation and relaxation.
Introduction Exercise to our Free 10 Day Canine Enrichment Challenge
The Free 10 Day Canine Enrichment Challenge will start Monday, October 7th. Here is an introduction exercise to get your dog started at thinking about food in a different way. Some dogs may shut down or get frantic when their food isn't presented is the same manner, in the same bowl, or in the same spot. You can stimulate their hunt drive with a very simple exercise called Scatter Feeding.
Dry food works best for this exercise. If you add wet food normally, cook for your dog, or feed raw, you can use treats or high quality kibble for this enrichment exercise. You can leave a small portion of kibble at the end to add to the normal wet food to allow the dog to finish up in the bowl. Skipping the wet food when doing enrichment is okay too.
In the area you normally feed your dog, take 1/6 portion of the dry food and put it in a loose pile on the ground. If your dog doesn't dive in, encourage them to eat. If your dog is an eager eater, you can skip this step and go right to scatter feeding. Once they finish, take the next 1/6 portion and spread it out more than before. The last portions of food should be spread out even further until the dog is having to really move to hunt for the food.
Scatter feeding is where you take a handful of food and toss it in a wide area so the dog has to hunt for every single piece. At first, start this in a tiled area where the pieces are easy to find.  You can make it harder by scattering the food on carpet or grass (outside).
Ditching the bowl and switching to scatter feeding a couple times a week will give your dog the idea that hunting for food is fun. This will prime their brain to think and offer behavior once you start the Free 10 Day Canine Enrichment Challenge.
Items to start collection for the Challenge
The challenge has been designed to be as FREE as possible. The items we use can be switched out to whatever you have around the house. However, here are some items you can start collecting over the next few days before our challenge starts. You will want these items empty and clean:
Cereal Boxes
Amazon Boxes
Toilet Paper Rolls
Paper Towel Rolls
Water Jugs
Plastic Cans in general (think Pringles containers)
Get ready to have an amazing time with your dog playing, laughing, and best yet, burning off that excess energy.
Be sure to download the FREE Canine Enrichment Guide and join our Free Canine Enrichment Facebook Group to get access!