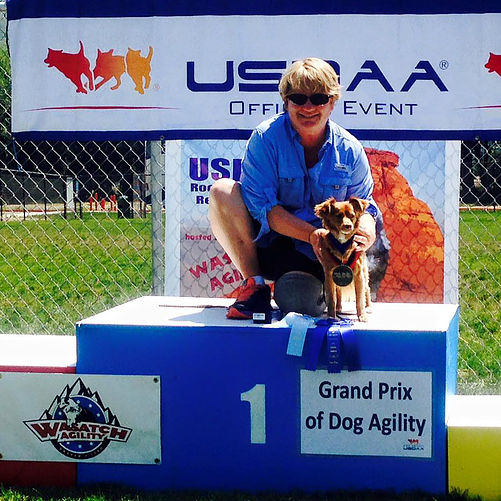 A Note From Our Founder
Laurie Zurborg CPDT-KA
Wags and Wiggles started out in 1999 from a personal need for my own rescue dogs. They needed socialization to complete their rehabilitation. With a veterinary background I jumped into creating Orange County's First and Premier
Dog Daycare
and
Training Facility
.
It is an honor to care for so many dogs and provide a place for dog owners to call home. We employ over 130 local dog enthusiasts that help our business thrive.
Everything we do puts the welfare of the dog first. As a family-owned business, our profits are invested back into the facility and employees to continually improve and enhance you and your dog's experience.
Thank you for considering Wags and Wiggles as your dog's home away from home.
Our Human Pack of Leaders


Laurie Zurborg
Founder, Certified Dog Trainer
Philosophy
Affectionately called "THE DOG NANNY" by many of her clients, Laurie has brought many chaotic pet households to have a calmer, better relationship with their beloved dogs. Laurie brings her life-long love of dogs together with proven behavior techniques using positive reinforcement as a basis to run the entire company. Wags and Wiggles is dedicated to helping humans as well as canines through our Daycare, Boarding and Training services.
Knowledge
With 20 years experience in the canine field, Wags and Wiggles Dog Daycare has led the industry and become the model that many others follow.
Animal behavior is a rapidly growing field. To remain on top of the latest in dog behavior, Laurie regularly expands her knowledge. She has continued her education with The Baileys, Susan Friedman Ph.D., Kay Laurence, Ken Ramirez, Alexandra Kurland, Rachel Sanders, One Mind Dogs - Jakko and Janita, Bobbie Lyons,  Sue Sternberg, Patricia McConnell - PhD, Karen Overall - PhD, Suzanne Hetts - PhD, Jean Donaldson, and Dr. Ian Dunbar.
Affiliations
Association of Professional Dog Trainers (APDT)
International Association of Animal Behavior Consultants (IABBC)
Graduate LLA - Susan Friedman PhD
Graduate Natural Encounters - Steve Martin
IFCS 2016 - 2015 World Agility Team Member
Pet Professional Guild (PPG)
Owners of Dog Daycare (ODD)
American Kennel Club (AKC)
National Agility Finalist 2009 - 2015
United States Dog Agility Association (USDAA)
National Agility Finalist 2008 - 2016
Entrepreneur Magazine - "A Dog's Life"
Featured on Animal Planet
Ranaye Kahn
Co-Owner, Certified Dog Trainer
Ranaye started as a client in 2004. She then joined the Wags & Wiggles Apprenticeship Program. She successfully passed her CPDT Exam and became Training Manager. She quickly became a client and staff favorite leading her to Training Director. Then in 2017, she became a partner with Laurie & Dave.
She has a background in conformation and showing Great Danes. She also owns Shelties. She enjoys doing agility and spending time with her human family which consists of two boys and her husband. She is active in the community, involved with both soccer and baseball as team mom for her son's teams, and enjoys working in the Children's Theater.
She taught preschool for 10 years and has a special gift when it comes to instructing children in classes. Ranaye works with day school dogs and Board & Train dogs in addition to teaching group classes. She is energetic, always has a positive attitude, and takes great pride in her work.
Affiliations
Association of Professional Dog Trainers (APDT)
Graduate LLA - Susan Friedman PhD
Graduate Natural Encounters - Steve Martin
American Kennel Club (AKC)
United States Dog Agility Association (USDAA)