Bathing Services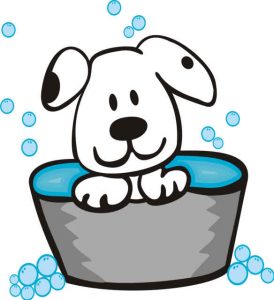 Our luxurious bathing services are only available in conjunction with a day of daycare or boarding.
After some serious play in the morning, your dog will be bathed in a state of the art bathtub. We use a gentle herbal shampoo and warm water. Included are ear cleaning, toenails clipping, and hand brush and hand dry.
You have the option for private care for ultimate cleanliness after the bath or your dog will then be let out to join the rest of their friends.
A final spritz of cologne will be given right before they go home. Sorry...no clipping services are available.
If your dog boards for 10 days or more, you are welcome to a free bath. We offer baths 7 days a week.  The owner MUST request the bath upon drop off for boarding. The bath will not automatically be given. For this free boarding cleanup bath, nails and ear cleaning are an extra fee.
Prices for Bathing Vary by Dog but general guidelines are:
$25 - Less than 15 lbs 
$30 - 15-50 lbs 
$35 - 50+ lbs 
Dogs with a lot of coat will be $35. 
Fluff N Fresh
COMPLIMENTARY FLUFF N FRESH POLICY
Let us help you return home with a tired, happy and CLEAN dog!
Your dog has been playing their heart out and may need some freshening up at the end of the day.  When requested, your dog will be wiped down head to tail with a moistened, deodorant washcloth. If the feet need to be dried, they will get a quickie blow dry.
This FREE service may take about 3 minutes depending on the time of day. If you call ahead with an arrival time, we will do our best to have your dog ready to go. We can even make it a permanent request in your file. You can also opt out.