Dog Obedience Training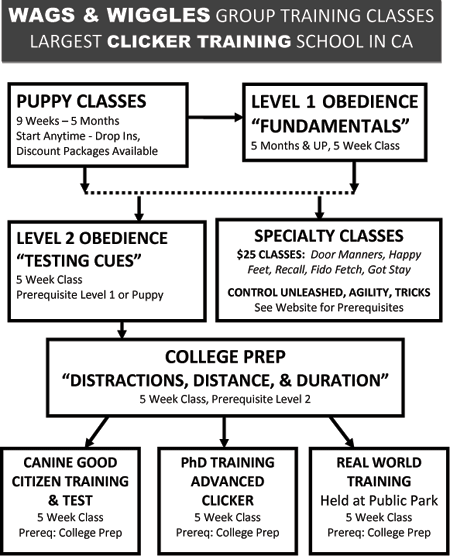 Wags & Wiggles Dog Obedience Group Classes are held in a state of the art indoor training facility, specially made to give owners and their dogs the best chance to succeed. Small class size with the space needed to keep your dog's focus and attention. Exercises are broken down in easy to follow handouts and the instructors are there to help every step of the way.
The Obedience Class Series is designed to be followed in accordance with the chart.
We generally recommend a dog pass the Level 1 Obedience class prior to pursuing other "sporty" classes like agility.
If you feel your dog already meets the requirements of any of these classes and wish to skip ahead, please email us to set up an appointment with one of our Trainers to assess your dog.
PURCHASE AND REGISTER FOR CLASSES
Class Rules
One handler per dog in class, but entire family welcome to attend
Well-behaved children over the age of 6 are welcome to attend. Any child under 18 must be accompanied by an adult. No more than 2 children per family allowed.
No out of control, aggressive, or wild dogs
Instructor/student ratio is 1:8
No Choke Chains or Electronic Collars allowed on site
Level 1 Obedience "Fundamentals"
Introduction to Clicker training
Shape, Capture or Lure New Behaviors, Add Cues
Sit, Stay, Down, Go To Your Mat, Come, Leave It, Nose Targeting, Heel/Side and walking on a loose leash.
We will show you how to stop unwanted behaviors
$199/5 week class. Includes training packet, training pouch, clicker, & training collar.

Level 2 Obedience "Testing Cues"
Test Your Cues From Level 1 Obedience
Learn more about Loose Leash Walking
Stimulus Control over your cues
Prerequisite: Level 1 Obedience
$199/5 week class.
College Prep Training:
Distractions, Duration and Distance
Tackle skateboards, rabbits, strangers, and dogs
Increase the amount of behavior you can get with minimal reinforcement
Teach Your Dog how to listen to cues from a distance
Prerequisite: Level 2 Obedience
$199/5 week class.

Ph.D. Training: Advanced Loose Leash Walking
Hone your loose leash skills
Advanced Distractions
Introducing Rally O Type Exercises
Prerequisite: College Prep OR Pre-approval by Instructor required
$199/5 week class.
Canine Good Citizen
10 Step Test performed by an AKC Certified Evaluator
Class will cover all elements of the test
Test performed on last week of the class
Prerequisite: College Prep OR Pre-approval by Instructor required
$199/5 week class.
Real World Training: Out and About Class
Held Outside Facility At Local Pre-Approved Parks
Prerequisite: College Prep OR Pre-approval by Instructor required
$199/5 week class.
PURCHASE AND REGISTER FOR CLASSES