Puppy Training Programs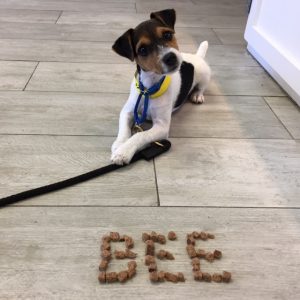 Are you wondering what your puppy's adorable antics will be like when they get bigger? Would you like a dog that is welcome anywhere? A perfectly behaved puppy starts with Puppy School at Wags & Wiggles.  Good puppy habits will give you a reliable, obedient, friendly dog as an adult.
You will find that our dog training philosophy is easy to follow and very effective. Even if positive reinforcement training and clicker training is new to you, our instructors will guide you. After participating in any of our training programs,  your puppy will be attentive to you!
Our professional training facility is 7,000 sq feet of indoor, air-conditioned, matted classroom. You and your dog will learn quickly in this clean friendly environment.
Whether you're looking for an all-inclusive Board & Train program to a group puppy socialization class, we have what you need! 
When Should I Start Puppy Training?
Training should start the day you bring your puppy home.  If you are new to puppy raising, then contact us now to schedule an immediate private in-home lesson.  Group classes or In Facility Training can start once your puppy has been home for 7 days, has had a clean vet check, and first vaccines. Read our Blog Post on Puppy Training Questions.
What Do I Do If My Puppy Doesn't Listen To Me?
You are already in the right place.  Puppies don't naturally speak human and we are here to teach you with a combination of training and management.
You And Your Puppy Are In Expert Hands
Your puppy deserves the best and with 20 years of experience Wags & Wiggles is ready to meet you.
You can trust our professional instruction by certified dog trainers.
You want your puppy to love training. Positive reinforcement training will give your puppy guidance without squashing their enthusiasm.
Clicker training will help your puppy respond to your words.
Your puppy will love our style of reward based training.
The entire family (including children over 6 years old) is welcome to attend training sessions
Recommended by Local Veterinarians
You will see results fast!