So Cal's Largest Clicker Training School of Positive Reinforcement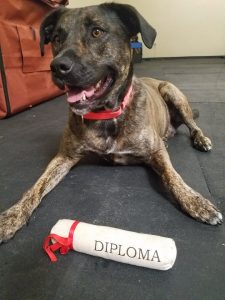 Do You Love Your Dog But Not His Behavior? Would you like your dog to be the best dog in the whole neighborhood?  We will help you attain your goals through leadership and reinforcement. Every human and dog can achieve the best relationship possible. 
We strongly believe in giving the human and dog end of the leash positive feedback during learning. We use a combination of food, praise, toys, real life rewards and clicker training. 
Our professional classroom has small class size.  Instructors have the only nationally recognized certification (CPDT). Veterinarians, other trainers, shelters, & rescue groups refer to us regularly.
Techniques That Get Results For You
Functional Assessment Through Proven Behavior Analysis
Marker (Clicker) Training
Lure/Reward
Target
Capture
Shape
Desensitization/Counter - Conditioning for fear and aggression
Just The Right Program For You
Yes, I want a free evaluation to choose the right program for me
Please click the links to the right to learn more about each program and then use this form to request a free evaluation. Click Here to see a complete course list