Doggy Daycare Meet and Greet
Become a Wagger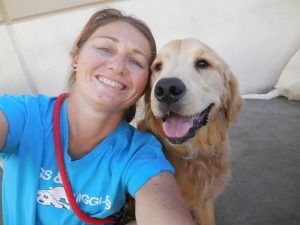 In order to ensure all our canine clientele enjoy their time in daycare with us, we require all new clients to schedule a meet and greet.
We will introduce your dog to our staff and a couple of greeter dogs. This helps us assess not just whether your dog will enjoy our daycare environment, but also what if any, special needs your dog may have.
For instance, if they're shy, fearful, over exuberant, have allergies, or need special attention, then we know best how to introduce them to the pack.
Whether you're interested in Doggy Daycare or Overnight Boarding, we require you to schedule a Meet and Greet.
While you're here, we'll give you a tour, show you around our facility, and answer any questions you may have. At that point, you can decide if you would like to leave your dog that day for their First Day Free or you can come back another day for that.
We usually like your dog to stay at least 3-4 hours on their first day but they are welcome to stay all day if you wish. We cannot book boarding until the First Day Free is completed.
Use our online appointment maker by selecting the facility you wish to use:
When you arrive for your interview, please have your dog on leash. You are welcome to bring treats. Please print and fill out paperwork or you can setup your account online through Gingr. Bring copy of vaccines (see vaccine requirements below) and proof of clean fecal to your appointment. If you can't find your vaccine or fecal paperwork, we would be happy to call your vet when you arrive.
Daycare Entrance Requirements
Your dog must complete our Meet and Greet (by appointment only).
Must be 3 months of age or older and have received at least two sets of vaccinations.
Dog must be able to sit on verbal word or hand signal.
Must be spayed or neutered if over 10 months of age.
Must be current on all vaccinations (DHPP, Rabies, Bordatella) unless too young.
VaccineTiters acceptable except for Rabies.
Current Clean Fecal.
Must be in good health and flea/tick free.
Must be non-aggressive and not toy protective.
Must never have bitten or injured another animal or person.
You must have owned the dog for at least 14-30 days depending on your situation to ensure good health.
If recently adopted, your dog must be seen by your vet before coming to daycare.
We accept all breeds and sizes, except purebred pitbulls. We do accept Pit Mixes (subject to interview like all other dogs). While we do not accept pitbulls in the daycare, we do LOVE the breed and they are acceptable in any of our training programs.