Dog Boarding at Wags & Wiggles
Snooze The Night Away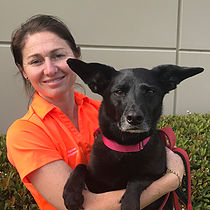 After playing with friends, lounging in the sun, having constant human interaction, and giving the toys a good tug the dogs are ready for a soft quiet place to sleep the night away. Overnight areas are air conditioned, clean, quiet and set up to help dogs feel calm and safe. We provide all amenities, fleece pads, ortho beds, bowls, toys, chews,
and bones. You just bring food and medications.
Large 4' x 6' suites available
Small 4' x 4' suites available
Spacious puppy pens
Bring your crate or use ours
Catch a ride home in the Wags Van to sleep at home (RSM Facility Only). We also are happy to work in conjunction with pet sitters.
Upgrade Your Stay With Your Dog's Favorite Activities
CHEW THERAPY
Frozen Kong- Two Flavors
PB & Banana or Tuna Salad
BREAK FROM THE PACK
10 Minute Walk
Outside Our Facility
FIDO FITNESS
Treadmill, Private Ball Play,
Fit Paws Equipment
MAKE ME BEAUTIFUL
10 Minute Brush Out - For dogs
that mat easily during play
CUDDLE TIME
10 Min Quiet Time with
Your Dog's Favorite Staffer
SPOIL ME ROTTEN
Cuddle, Chew & Walk
All In One Day
SLEEP FREE
Sleep With
Attendant
24/7 Monitoring, Veterinarian On Call
Our Facilities are Staffed 24 Hours a Day with late pickups to 9pm For An Extra Fee.  Dogs Play All Day & Their Last Potty Time at Night is 10pm. Our dedicated staff monitor every dog's activity, eating habit, health, weight, medications and well-being. All dogs are hand fed individually. It gives us one on one bonding time outside the play yard. Daily Roll Call is a hands on nose to tail check each day. Boarding dogs are name banded to track health and food allergies. Naptime, outside walks, and special requests are welcome. Photo and Video Report Cards Available. Check in While Away on Our Live Dog Cameras.
BOARDING FEES 
Overnight fee is $18.  Additional dogs are $10/night if sleeping together.  Daycare fees are separate ($23-$39). You can avoid some daycare charges by adjusting your pickup and drop off times.  Please inquire at each location as the times vary.  Please note, there is always a minimum half-day charge for a dog staying overnight.
 Cancellations must be three days prior to your checkin date or you will be charged for a 24 hour period of boarding.
 For families with multiple dogs we are happy to provide specialized discounted quotes.  Just ask!