Agility Training
Agility is the exciting dog sport where dogs learn to cross over, crawl through, and climb over obstacles such as tunnels, jumps, and weave poles. This class is for everyone looking to spend some fun time with their dogs or looking to compete. 
Dogs love this stuff and don't even realize it's training! These classes are also great for owners wanting to gain better off-leash trust with their dogs. This is an all-breed and mixed-breed sport. Agility will satisfy the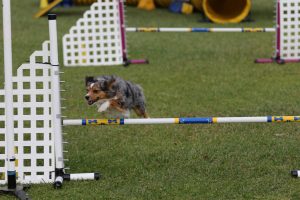 needs of high-energy dogs and will build confidence in shy dogs. 
The Wags & Wiggles Agility Program is run by serious agility competitors, however the classes are basic enough for even the newest person to agility. We focus on the skills that will help you build a team between you and your dog, whether you decide to compete at the highest level or just for fun.
Class Requirements: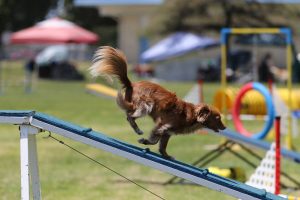 Dogs must be non-aggressive, have a 5 second sit/stay, and come when called
Dogs must be at least 4 months of age and in good health
Any dog that shows lack of control or reactivity will be required to complete Zen Dog before rejoining class
Wags & Wiggles only allows 6 students per agility class - This allows for much more class time per student than other training facilities
Class is 6 weeks at $150
Foundation Agility Class List
REGISTER for Foundation Agility Group Classes
---
Competitive Agility Class List
Beginner Competition
This level is for students who have become agility addicts and may possibly compete. Your dog must have met previous Foundation level 1 through level 3 criteria in order to join this class. If you have trained elsewhere and would like to join this level or above, please schedule a consultation with a W&W Trainer. Here we put all your hard work into practice. We complete basic contacts, weaves, teeter, more elaborate jump sequences and other equipment necessary to compete at the novice level in AKC or USDAA. We focus on obstacle independence, handling maneuvers like front cross, rear cross, 270 work, serpentines, threadles and more.
Intermediate Competition
For continuing students who are looking to improve their dog's speed, handler's timing, obstacle performance and excel in competition.
Advanced Competition
For continuing students who are currently competing.
REGISTER for Competitive Agility Classes
---
Private Lessons & Workshops
Private Lessons
Available at RSM or Tustin Facility. Great for students who need a plan for challenging things that are occurring in their regular classes or in competition. Can also target single problems that are preventing you from moving up to the next level of class or competition. Please inquire to price.
Workshops & Seminars
Offered multiple times per year on different subjects. These fill up quickly, so make sure you register well in advance!
REGISTER for Private Lessons & Workshops