New Puppy Series: 6 Things You Need to Know When Picking Your New Puppy's Breeder
Are you thinking about bringing home a new puppy soon? This blog mini-series is for you! In this post, we go over 6 things you should know when picking out your new puppy's breeder. The brand new puppy in the pictures is Logic, the newest addition to the Zurborg family!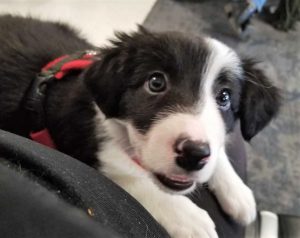 #1 – What type of dogs do they breed?
Meeting prior dogs in your breeder's lineage is probably the most important homework you can do. Your new puppy will most likely share those traits. Are the other dogs friendly? Do they bark a lot? Do you like them? Personality is often passed down from one dog to the next, so make sure they have all or most of the qualities you're looking for. Genetic traits are also passed down, and you want to make sure the breeder's other dogs are healthy.
#2 – What's in the breeder's contract?
The breeder's contract contains a lot of critical information. It's very important to find out what orthopedic and/or eye issues your breeder tests for. In addition, some breeders have specific requirements on what kind of food to feed, when to spay or neuter your new puppy, and deposit requirements. There should also be information on vaccination and de-worming schedules.
#3 – Who chooses the puppy?
If you are brand new to puppy owning, it can be a good idea to let the breeder pick out your puppy for you! They are very knowledgeable and will know what personality traits you're looking for, so they will be able to choose the right fit for you and your family! Some breeders actually don't give you a choice, and some puppies may have already been promised to other families.
#4 – How do they socialize their puppies? 
What system do they follow for exposure, stimulation and socialization of their puppies? These three things are very, very important at a young age. They will set the foundation for the rest of your puppy's life! In addition, there are actual methods that have been proven to produce happier, friendlier, and more confident puppies. The days of just inviting a few friends over are long gone! Puppy culture is a popular program.
#5 – What does the puppies' set up look like?
What is the breeder's set up for their puppies? Raising puppies is hard and dirty work! Breeders who resort to using garages or barns to raise litters are not ideal. We prefer house raised puppies. We also prefer breeders that allow buyers to visit before purchasing a puppy.
#6 – How many litters a year do they have?
Generally, if your breeder states that they have more than two litters per year, you need to investigate further. However, there are some professional breeders who may have multiple litters per year. As long as the breeder is ethical and diligent, it isn't an issue.
If you have any questions about puppies, feel free to contact us or sign up for a puppy group class!