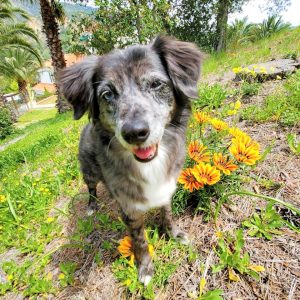 It finally feels like summer in beautiful Orange County! Warm weather provides the perfect opportunity to get out and do more with your dog.
However, just like humans, dogs can suffer from heat-related illnesses like heat exhaustion and heatstroke. Dogs with double or long coats and brachycephalic breeds like Pugs, Bulldogs, and Shih Tzus are especially at risk for heatstroke.
Dogs mainly cool off by panting, and when panting isn't enough, their internal body temperatures can rise quickly.
It's important to keep an eye out for symptoms like uncontrollable panting, bright red or blue gums, excessive drooling or foaming, and vomiting or diarrhea. If you notice any of these symptoms, move your dog to a cooler environment and immediately contact your veterinarian.
Here are 4 summer safety tips to keep your pup nice and cool:
1) Never leave your dog alone in the car
Never leave your dog in a vehicle unattended, even if it doesn't feel that hot outside. It only takes about 10 minutes for the inside of your car to reach 94 degrees on a 75-degree day.
Temperatures inside of a car can reach deadly levels fast, even with the windows open, and it's illegal in many states to leave your dog in the car alone.
2) Never leave your dog alone in the yard
Deciding what to do with your dog while you're at work, running errands, or otherwise out of the house can be a tough choice.
Most dog owners have to leave their dogs home alone for periods of the day, and some owners choose to leave their dogs alone in the yard unattended.
In addition to potentially causing behavioral issues, there is no way to ensure that your dog is staying out of the heat and keeping cool when left alone in the yard.
3) Test the pavement
If it's hot outside, the asphalt is definitely hotter! Did you know that asphalt can reach temperatures of 125 degrees when the air temperature is only 77 degrees, and temperatures of 135 degrees when the air temperature is only 86 degrees?
Whenever possible, walk your dog on grass or in shaded areas, and try to avoid exercising your dog during the hottest parts of the day. Always test the pavement by placing the back of your hand against the surface for 7 seconds. If it's too hot for your hand, then it's too hot for your dog to walk on.
4) Make cool, tasty treats
A great way to keep your dog cool during the summer is to prepare frozen dog treats!
Fill a Kong with peanut butter or a fun recipe, then freeze it. It's a great way to keep your dog occupied for a bit AND cool him or her off at the same time.
You can also create your own frozen dog treats by blending 32 oz of plain, unsweetened yogurt, 1 banana, 3 tablespoons peanut butter, and 1 tablespoon honey together, then pouring the mixture into ice cube trays and freezing for 10 minutes. Stay away from popsicle sticks, as they can be a choking hazard. You can check out these five frozen dog treat recipes for more great ideas!
How are YOU going to keep your dog cool this summer? Share any tips and tricks in the comments below!