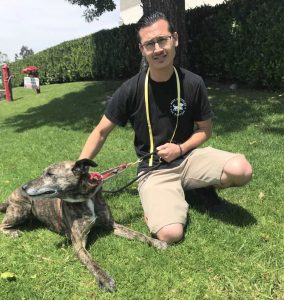 Danny started working at the Tustin Wags & Wiggles in the summer of 2018. He started out as one of our kitchen assistants, quickly moved up, and is now our Kitchen Manager!
As Kitchen Manager, Danny prepares meals, feeds our daycare and boarding guests, and ensures all medications are administered. He enjoys working at Wags & Wiggles because he gets to work with dogs every single day! He loves helping all of the dogs in our care have positive experiences.
Danny always works with a smile on and is such a positive person. We are so lucky to have him on our team!
Danny is more of a "small dog" person and loves Pugs! He has three pugs of his own:12-year-old Kaya, 8-year-old Tootsie, and 8-year-old Mindy. He loves all dogs and animals and recently rescued a liter of kittens.
When Danny isn't at work, he enjoys reading and is currently reading "life lesson" books. He also volunteers at soup kitchens, participates in beach clean ups, and loves to bake. He enjoys trying new recipes and the Tustin team is lucky enough to reap the tasty rewards of his hobby!
Have you always dreamed of working with dogs? Good news, we're hiring!