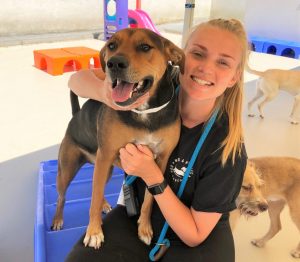 Everyone, meet Devynn!
Devynn started working at Wags & Wiggles in the summer of 2017. She started out on the play floor as a daycare team member. She is now one of our play floor supervisors!
As floor supervisor, Devynn helps train newer team members, leads Quick Train sessions, and ensures all of the dogs in our care are successful on the play floor. On some days, you can find her in the kitchen making meals and administering medications for our canine guests.
Devynn attended the University of Mount Olive in North Carolina and graduated with a Bachelors degree in Exercise Science. She also recently earned her EMT license and hopes to be a paramedic one day.
Devynn loves working at Wags & Wiggles because she gets to work with dogs every day. She is funny, positive, reliable, and a huge asset to our team. We couldn't be luckier to have her!
Devynn is more of a "big dog" person and loves Pit Bulls and mutts! Her dog, Tucker, is a 3-year old Hound mix.
When Devynn isn't at work, she likes to play soccer, go on adventures and road trips, visit the dog beach with Tucker, and just generally be outdoors and soak up the sunshine. Her favorite place that she's traveled to so far is Maui, and she hopes to visit Santorini one day!
Want to join our incredible play floor team? Good news, we're hiring!