Wags & Wiggles Online Dog Training Classroom
Online dog training classes are the latest resource for dog owners, allowing access to certified professional trainers who are highly skilled and current in the latest methods without having to travel or change their work schedule to attend class.
For 20 years, Wags & Wiggles has run group training classes in Orange County, California. Owners Laurie Zurborg and Ranaye Kahn have helped new puppy owners transform their barking, jumping, and nipping puppies into wonderful members of the family. We have thousands of canine graduates and now everyone can gain the same access to dog training from home!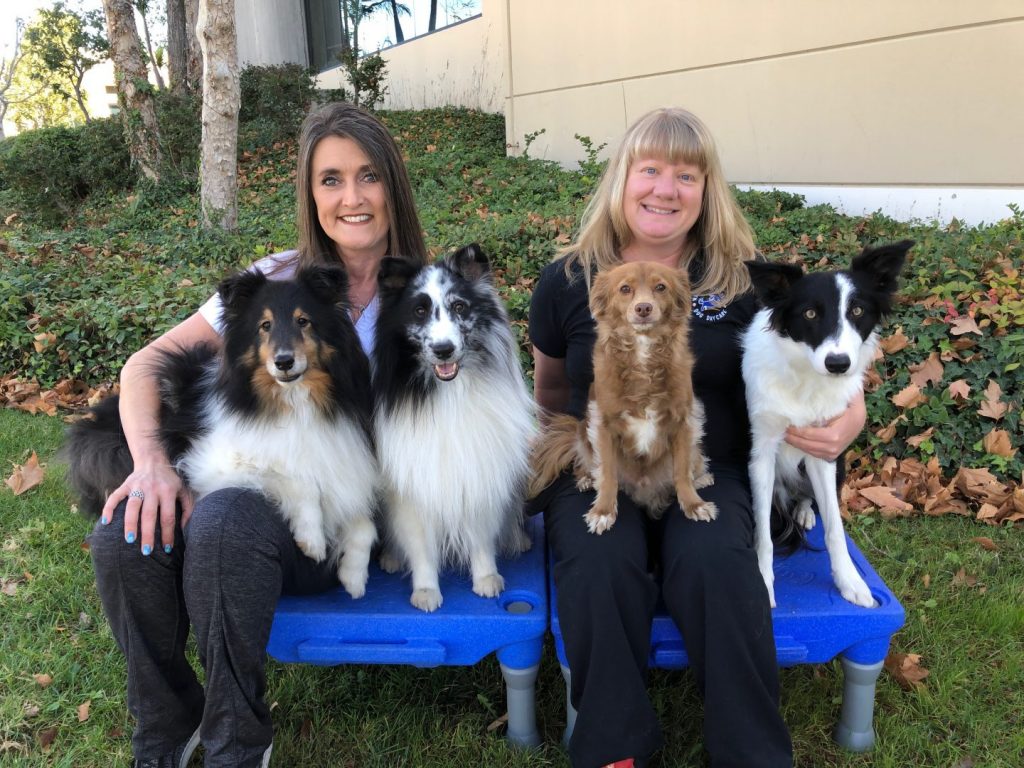 One might be skeptical of online dog training, but it provides the ability to learn without juggling your dog's reaction to the class environment. A huge advantage if your dog is nervous, aggressive, or reactive!
When we were first presented with the idea of training dogs online, we weren't sure how effective the training would be. However, we took some advanced dog training classes in different dog sports with our own dogs and achieved great results!
Our Online Dog Training Classroom Project
We did a TON of research on online dog training and discovered different learning platforms. We discovered that our clients wanted to train their dogs at home using the same great techniques they learned at our facility.
Having videos at their fingertips was important to them. One year and over 200 dog training videos later, our online classroom was born.
One of the unique features of our Online Classroom is that you can be a silent observer or you can submit your own videos for feedback from the instructors. You have the ability to ask questions as well!
You have access to other student's videos and the instructor's feedback of those videos. We are building the same great dog training community we have at our facilities, just now online where you can get all your dog training problems solved from home.
It was important to us that The Wags & Wiggles Online Dog Training Classroom was affordable. Some of our dog training clients simply needed to work on a specific weak area of their training. Maybe the cue "Leave It" wasn't working and the dog was gobbling up rabbit pellets on walks, or perhaps the "Come When Called" cue wasn't effective anymore.
We also heard that continuing students wanted some refreshers at home when they got a new dog or new puppy. They remembered some of the basics from their first dog, but needed some videos to remember how to start certain behaviors.
Every course and membership includes the Complete Guide to Dog Training course for free! This course covers all common dog and puppy problems such as biting, chewing, and jumping. In the dog's world, these are just things they do. We give you quick management and training solutions!
Puppies are adorable, fun and expensive. Our affordable online puppy training membership gives students access to 7 courses for 6 months for only $59.
If you enroll in our in facility Puppy Raising Program, you get free access to this membership for 60 days. We get the basics started for you, and you continue the dog training at home via the Wags & Wiggles Online Classroom!
This Wags & Wiggles Online Dog Obedience Membership gives you access to the courses necessary for a well-trained dog!
Every course takes you from the very beginning of developing the behavior to adding the cue, to working through distractions, to real-life training.
This membership is incredibly affordable and gives you access to 12 courses for only $199. It covers exercises from our four levels of obedience training at our facility. Your membership lasts one full year, which is more than long enough to complete all of the exercises and come back to reference certain skills if they start to slide.
Teaching tricks to your dog isn't just for fun. Trick Dog training improves obedience, strengthens the bond between you and your dog, and is a great form of exercise. Dogs naturally become more attentive through trick dog training!
Our online classroom starts with some basic tricks like "shake" and "rollover." We progress to "cross your paws," "weave through legs," "fetch a ball," "slam dunk," and many more!
Are you ready to register? It's quick and easy!
Don't delay as we will be releasing more content in the next couple months and prices will increase. Now is the time to become a founding member of the Wags & Wiggles Online Classroom!