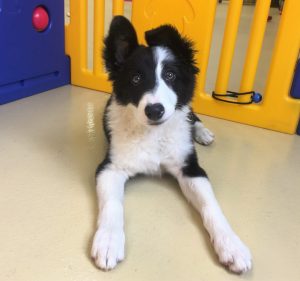 Benefits of Dog Daycare for Puppies
Are you thinking about bringing home a new puppy soon? This blog mini-series is for you! In this post, we go over the benefits of dog daycare for puppies. The puppy in the pictures is Logic, the newest addition to the Zurborg family!
Logic turns three months old
The day Logic turned 12 weeks, his devil side emerged! His previous training and playtime sessions only lasted about an hour. Afterwards, Logic would be totally wiped out and would need to sleep for 3 hours. Those days are long gone! This is a common transition time for puppies.
Logic used to be content chewing on a bone in my lap for an hour. Now, by the time I'm done playing, he's just warmed up and "nap-time" is a bad word. Our walks down the street and back aren't nearly enough to tire him out. It's harder to keep an eye on him, so he's learned to steal things and take off running with them. The other dogs in the house are getting tired of him, too. My husband and I need to get back to our full time work schedules.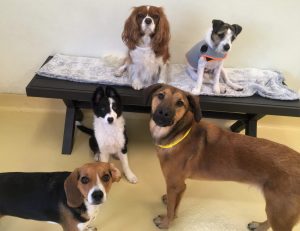 Time for dog daycare
We decided that Logic was more than ready for his first day of dog daycare. It just so happens we know of a couple really great facilities!
On his first day, Logic went through all of the same required processes as any other dog would. He was thoroughly assessed by our front office team and they found he was shy with new people. My husband and I already knew this about him and are so glad that daycare will help him get over his slight fear of strangers!
Logic was then carefully introduced into the small dog room. He was a little nervous at first (small fish in a big pond now). This is totally normal and is to be expected. After he checked out the room and sniffed around a bit, he warmed up!
Logic started off playing hide-and-go-seek under one of the play structures with a French Bulldog puppy named Baxter. Eventually, he was zooming across the room with the rest of the dogs! The best part was that I got to watch the whole thing on our webcams while I was stuck at home recovering from an injury.
Dog daycare is beneficial for all ages, especially for puppies. We've mentioned before how important socialization is. The daycare environment offers plenty of different socialization options, including new people, new dogs, and new sights, smells, and sounds. In addition, we offer training options while our Waggers attend daycare!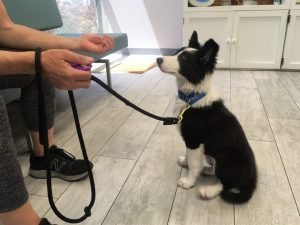 Dog daycare training options
Logic received a day school lesson while attending daycare. Day school lessons are 30-minute, one-on-one lessons with a certified trainer. I wanted him to practice cues such as sit, down, and touch, as well as receive more personalized socialization. After his lesson with Christine, our Training Manager, he received a nap and then went back into daycare!
While in daycare, Logic participated in our daily Quick Train sessions. Quick Train sessions help our Waggers learn how to come, sit, and stay in the group play environment. These sessions encourage good behaviors, patience, and focus. Through the cameras, I could see him getting braver and braver as the day went on!
All of this playtime and training really tuckered him out. Logic came home and napped for 4 hours straight! After his nap, he was still energetic enough to have his nightly training session at home, but thanks to daycare, he didn't need any more stimulation than that. We are getting closer to him sleeping through the night now, too.
The best age to start dog daycare at depends on the individual puppy, but when you start to feel frustrated with your puppy or are second guessing your decisions, daycare can bring some much needed relief!
If you have any questions about puppy daycare, feel free to contact us or set up a Meet & Greet appointment!