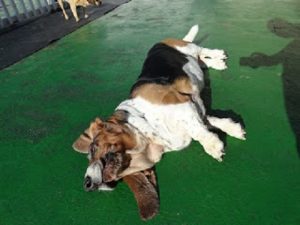 We wanted to share a special note we received recently from some of our favorite clients, Annie the Bassett Hound and her mom Carole.
Annie (an 8-year-old Bassett Hound) is quite the character and we love her sweet personality and how she is always so quick to make us laugh!
Dear Laurie and the staff of Wags,
Annie has been part of the Wags and Wiggles family since she was 3 months old.
In two months she will turn eight and although she is more apt to passively watch all of the activity now instead of joining into the playful antics of the younger crowd, I know that she loves going to see all of you and her canine friends each week.
As someone who works some pretty long hours, it is comforting to know that she is not home alone and she is able to have the attention she so deserves for being such a wonderful and loving companion to me.
When you added the van pickup/drop off service a few years ago, you provided a customer service option that has allowed me to not worry about breaking the speed limit to get to Wags before you close for the day to pick her up. For that, I am eternally grateful.
Because of this service, I learned about the magic ramp that allows her to get into a vehicle and with her short legs and heavy weight (Bassets definitely aren't ergonomically built). It was becoming a problem getting her in the car.
Now we have a "Wags ramp" and because she is so familiar with this type (she doesn't particularly like new situations unless they are of the food variety), it was an easy transition to get her to use this to get into and out of our personal car.
Although you have helped her through some of her health challenges, I recently had one of my own. When I found myself unexpectedly transported via ambulance to a hospital, my main worry was not my own health but what was going to happen to my Annie who was home alone that day.
A quick call to Wags set everything in motion for the van driver to go to the house and pick her up along with her food and bed. Even though she had just gone through a minor surgery of her own, your staff said "no problem" in taking her in for boarding and care, and her medication was also picked up and administered.
Best of all was that I knew there would be no trauma on her part because she knows and loves the driver Drake and this would just appear to be another day (and night) at Wags, her second home.
All of you are so wonderful and although we should tell you this throughout the year, I want to let you know that Annie and I love and appreciate all you have done for us for the past eight years. You are a special group of canine servants who truly love and know the value that they have on earth. We are so lucky that you and your husband took on this venture and have given us this service.
Have a very wonderful holiday season.Carole and Annie