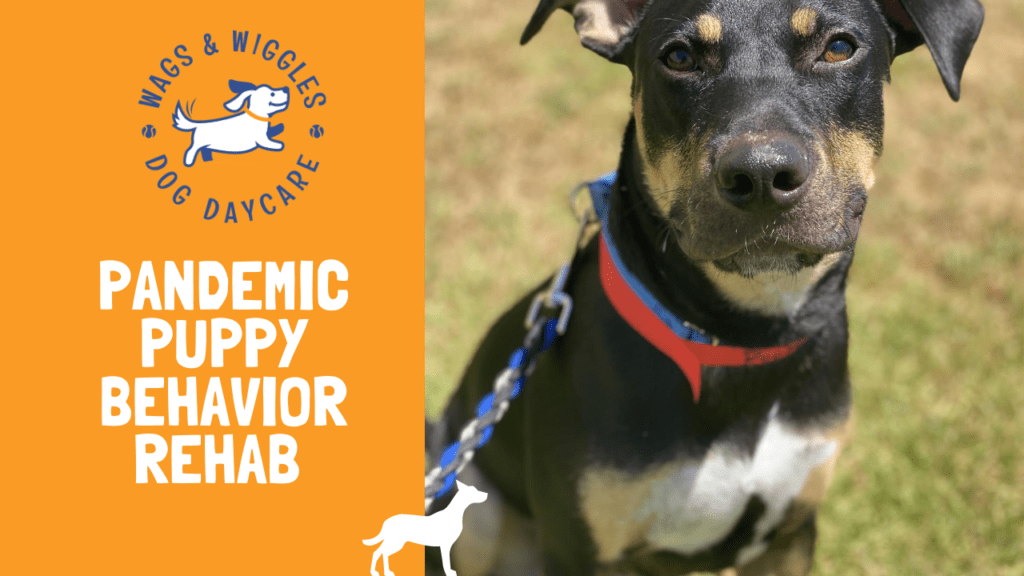 Every dog that comes to Wags and Wiggles has a story to tell, including one pandemic puppy named Rocket that needed intense behavior rehab. Some pandemic puppies are blessed to have found a loving home from the start.
The lucky puppies are provided the leadership, structure, management, and socialization that they need to help guide them into being a well-rounded dog. Some aren't so lucky. We are proud to play a small part in helping pandemic puppies and their owners find their place in the world.
Rocket, the Pandemic Puppy, was found abandoned in Sacramento at a park. The original owners were unable to be found. It is unknown how long he was loose. A kind woman found him and tried to take him to some local shelters. Unfortunately, it was right when Covid-19 arrived, so none of the rescues would take him.
After doing some coordinating, Rocket went to a rescue in Temecula. It was here that his new owners, led by Joel and his wife, who were looking for a family dog for their three kids. Rocket was ten months old.
Rocket immediately started showing aggression towards other dogs. On walks, he would bark and lunge with his hackles up at any dogs he could see. When you see fear or aggression in your adopted dog, it's won't just go away. Get help right away.
Rocket's family tried to introduce him to a few friendly dogs but it was clear he was uncomfortable, being very stiff, growling, and the interactions scared them.
Getting Help For The Pandemic Puppy
Joel decided to look into training options and came in for a Wags & Wiggles Meet & Greet at our Rancho Santa Margarita location. Rocket was extremely anxious. He hid under the bench in our lobby and was growling or barking at any other dogs who entered the building.
Need more information about how to read dog's body language? Check out our body language video.
Kelly, one of our certified trainers, came out to meet with Joel and Rocket. She immediately felt connected to the little guy. Kelly was impressed with dad's obvious concern and commitment to doing whatever was necessary to help Rocket through this.
We took Rocket back into the kennel room to see what he would look like around dogs without his dad there and saw even more fear signals. He had zero interest in meeting another dog. He would growl and then go into avoidance, and even starting shaking.
Joel and Kelly agreed that the Puppy Raising Program would be best for Rocket. Rocket would attend three times a week to get healthy and controlled exposure as well as general obedience training.
Rocket would get to go home each day to sleep in his home with his family. He would have a day off in between training days to manage his stress. The program would also be able to make sure that his family was heavily involved with the training by doing lessons each week.
Check out Rocket's Before and After Video. See clips of his training and socialization at Wags & Wiggles Dog Daycare.
Training and Socialization for The Pandemic Puppy
Joel and his family didn't want to waste any time, so he brought Rocket in the very next day to start the Puppy Raising Program. Rocket immediately responded well to the positive reinforcement training. He was very food motivated (cheese is the way to his heart) and caught on to what the clicker meant in no time.
After just a week, he was sitting, laying down, and reorientating to the handler. He mastered the cues to leave it and go to the mat. Rocket's leash manners were improving as his mind became focused, and his fear reduced.
Joel also requested we work on his crate training and separation anxiety. Confinement was a stressful situation for Rocket. Joel was rightfully concerned since the new young dog was not ready to be trusted to have the run of the house when the family was not home. Their family takes vacations and they knew Rocket would need to be comfortable at the Wags & Wiggles Boarding Facility.
Crate Training The Pandemic Puppy
The first time we worked on confinement training, Rocket wanted absolutely nothing to do with the crate. He would walk as far away from it as possible and just stare at us in mistrust. After learning the go to the mat behavior, we placed a mat in a crate.
We used our popular Relaxation Protocol and even more cheese. Rocket slowly learned to trust the crate. He gradually offered to approach it, then sniff it, and stick his head in it. We use a shaping technique to get one step, two, three into the crate. Rocket was getting plenty of rewards along the way. All of a sudden, he was going in and laying down like he had been doing it his whole life!
We sent many videos via our Report Card service to show his family what the steps were to build his confidence in the crate. Joel and his daughter went to work at home. Rocket quickly learned to lay down in his crate calmly at home as well.
This is one of the many examples of how involved and committed Rocket's new family is. They not only take the time to work with him, but they are truly loving the process!
Tackling Rocket's Dog to Dog Aggression
After getting a solid foundation of listening to cues, it was time to start working Rocket around other dogs. Creating social behavior was a slow process. It was essential to go to Rocket's pace and push his boundaries slowly. Luckily, he is so food motivated that as long as the dog(s) were outside his distance threshold, we could get just about any behavior from him.
We started by working him around calmer dogs at a distance in the quiet environment of our training center. Wags & Wiggles uses counter conditioning to make dogs feel more confident and safe. This slowly changed Rocket's emotional response to the dog's presence.
The first 2 weeks he still fought with his instinct to get defensive, but each day we witnessed him relax and show less stress signals. He even started showing some healthy curiosity!
Training The Human End Of The Leash
One of the most important parts of the Puppy Raising Program is to make sure the owners receive clear and consistent communication with their primary trainer.
In order for a Pandemic Puppy to continue to be social, their owners must know how to continue working with their dog at home. Joel made time to come in and do lessons with Kelly each week. In these lessons, they discussed goals and homework to make sure Rocket was generalizing the behaviors.
Lessons include learning proper leash training on walks. The owner needs to understand when to reward, how to give cues, and what to avoid. Owners go through our Zen Dog Routines.
At the end of the program, Rocket had shown such growth and comfort working around dogs at a very close distance, that we would like him to meet a dog in a controlled environment.
Pandemic Puppy Happy Endings
To our happiness and surprise, we got to watch Rocket play with Stella. In no time, the two dogs were romping around. Although it was apparent Rocket wasn't quite sure what he was doing, he was having a great time doing it. We found two more dogs for Rocket to meet, and we were impressed with his ability to engage in play.
While the program may be over, his family wants to continue to bring him in at least once a week. It's obvious he loves it here, and they want to continue his progression using the Wags & Wiggles Day School Program.
While we love all of our dogs in our Wags family, it is dogs like Rocket that remind us of why we do what we do in the first place. We all want that 'perfect' dog. However, imperfect Pandemic Puppies like Rocket need the right loving home and some positive guidance to help them live a healthy, happy life. We couldn't be happier to have been a part of Rocket's journey.
We thank his family for trusting us to help in any way possible. Still, most importantly, we thank them for being precisely what Rocket needed when he needed it, and for providing the perfect home for him.
If you need help with your Pandemic Puppy, you can start with our Meet & Greet Process. You can also go through our Free Canine Enrichment Challenges or take a course through our Online Classroom. Yes, we even offer Virtual Private Lessons.
Have a specific question? Leave a comment below!