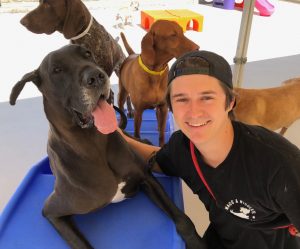 Everyone, meet Bryce!
Bryce started working at Wags & Wiggles back in April of 2015. He started out on the play floor as a daycare team member. He's now one of our most senior floor supervisors! You can also find him in the kitchen making meals or in the office assisting clients.
Bryce moved to Arizona for a few years in order to attend school out there. He moved back this past January and we couldn't be happier to have him back at Wags! Bryce is always so positive, has an incredible amount of dog knowledge, and is such a joy to work with.
Bryce loves working here because he gets to work with dogs every day. He truly enjoys working with such an amazing team that has become his second family. Everyone always works hard and does such a great job!
Bryce is definitely more of a "big dog" person! His favorite breeds are Great Danes, Pit Bulls, Golden Retrievers, and Lab mixes. He has 3 dogs - a Great Dane makes Simone and two Shelties named Reverend and Santana. He also has a cat named Cosette, Koi fish, and turtles!
When Bryce isn't at work, he likes to play soccer, rock climb, go on road trips, visit the beach, and just generally be outdoors. His favorite place that he's traveled to so far is either Yosemite or Zion national park, and he hopes to visit the Galapagos Islands one day!
Want to join our incredible play floor team? Apply today!