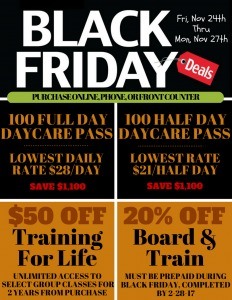 Black Friday Sales is the best time of year to plan your Wags & Wiggles
daycare
and
training
purchases. Most of the deals will not be offered any other time. With a 2 year period to use up your
daycare package credits
, Black Friday Sale bulk purchases are a great choice.
Here are 7 BIG Reasons you should check out the Wags & Wiggles Black Friday Sales.
1. 100 Full Day and Half Day Packages are never offered except during Black Friday Sales. These Packages offer the lowest rates available.
2. Daycare Packages have a 2 year expiration, there is plenty of time to use up the days.
3. Daycare Packages allow you to keep low rates despite annual price increases
4. Daycare packages can be used towards boarding which is a huge cost savings. This is a feature unique to Wags & Wiggles. Most boarding facilities have a standard boarding cost that can't be reduced with daycare packages.
5. Training For Life is our most popular program as it already offers deep discounts on our training classes. We only offer this additional $50 OFF coupon during Black Friday Sales.
6. 20% off Puppy Classes and Puppy Raising Programs are critical to raising a socialized friendly dog. This is the only time a year these programs are discounted. If you are expecting a Christmas puppy, you can pre-purchase these discounted programs.
7. 20% off Board & Train Services can save you hundreds of dollars. This program is offered in 2 or 4 weeks time periods and custom time lengths. This is our most effective in school complete training program and is our most common boarding upgrade during the holidays. You can pre-purchase this program for future use.
You can shop our online store to grab these Black Friday Sales. You can also call the facility to purchase over the phone or purchase in store. However, you only have until Monday, November 27th.
If you would like to tell us a little about your training needs before you commit, let's do it. Fill out our FREE EVALUATION form. We want to hear how we can help you attain your goals.