Here at Wags & Wiggles, we are an activity-based daycare.
Dog Daycare is great for socializing and allowing your pup to interact with other dogs.  Daycare also provides plenty of physical activity that helps to keep them healthy and happy.
Our daycare is different.  We believe dogs should have more than just playtime during their daycare day.  All of our staff are Enrichment Certified to bring more fun to your pup's day!
Wags & Wiggles enrichment stimulates different parts of the dog's brain.  Activities also help dogs rest between play sessions and keep play more well-balanced by breaking up part of their day.
You may have noticed that Wags & Wiggles has twice as many staff as any other daycare in Orange County.
It is important that dogs get both training and enrichment during their day. Our staff isn't standing around like lifeguards at a pool, they are more like activity directors on a ship.  One of their many duties is running our two complimentary daycare programs, Yappy Hour and Quick Train!
Throughout your dog's day of daycare, they participate in our Yappy Hour.
We have two Yappy Hour sessions, one in the morning and one in the afternoon.  During Yappy Hour, our staff brings out unique toys that are only used during our special Yappy Hour activities!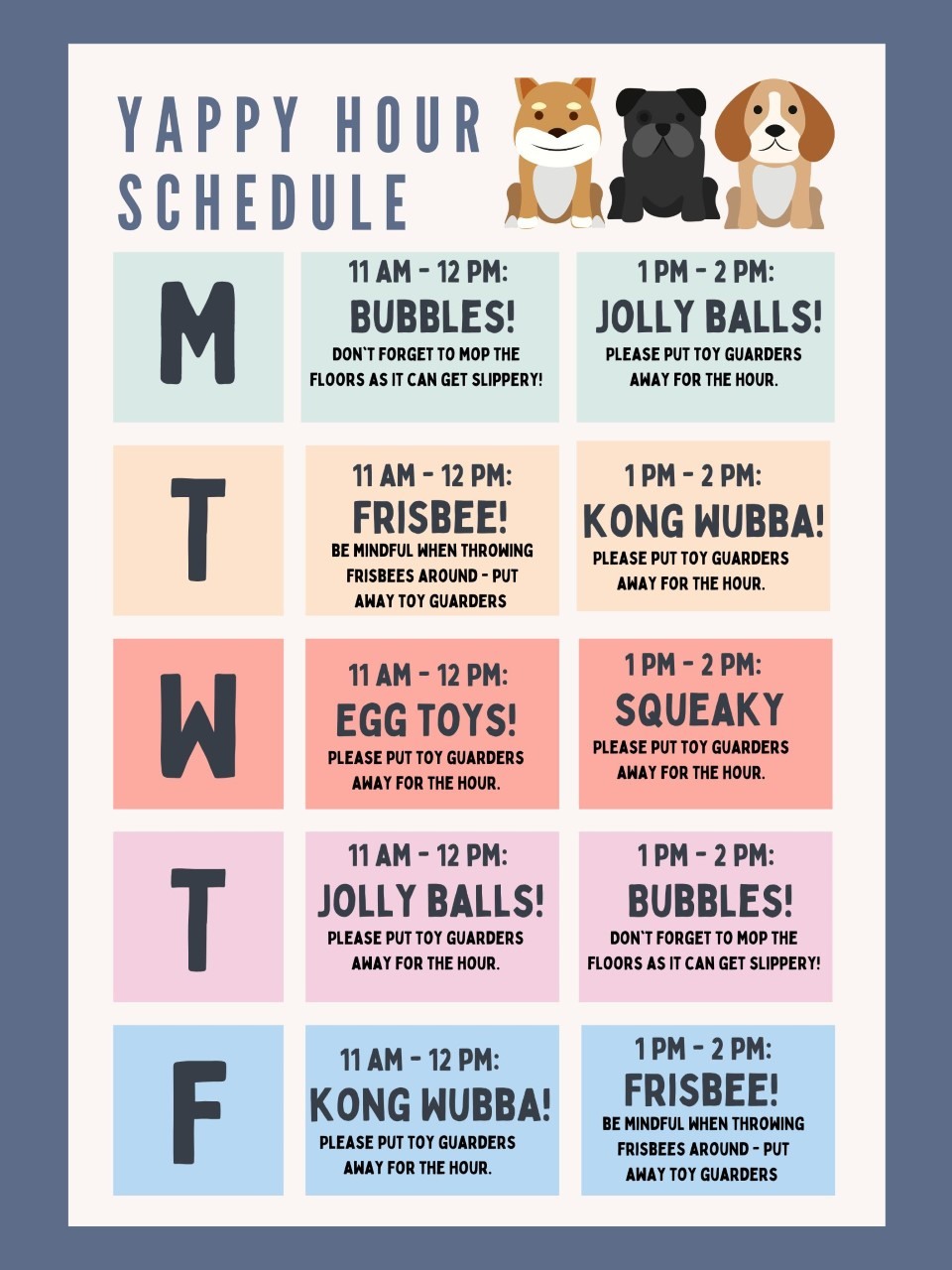 Our Yappy Hour activities are fun for both the dogs and our staff!
Bubble Time!  The dogs get to chase and "catch" bubbles.
Jolly Balls!  Dogs love to push and chase these around the room.  Our herding breeds tend to have an affinity for these, as they can "herd" the Jolly Balls around the play area!
Frisbee Play!  Every dog loves a good frisbee toss and these are durable.
Kong Wubbas!  These are interactive tug-and-toss toys.  They are made from durable material and have a long tail for tugging!
Jolly Egg Toys!  These interactive toys are egg-shaped, which gives them a unique rolling motion that dogs love to chase.
Squeaky Toys!  The dogs love to prance around while chewing on the toy to make them "squeak."
Our other stimulating activity is our twice-daily Quick Train!
Every morning and afternoon, our certified trainers head onto our play floors to work on specific cues and behaviors in the group play environment.  Each day of the week has a scheduled lesson.  Sit & Stay, Recall, Body Blocks, Leave It, Gate Control, and fun games like shake, going through the hoop, and tunnel races.  Our staff participates in Quick Train Sessions as well.  We have 2 levels of Quick Train Certification for our staff where they learn to train the daycare dogs and develop a communication system.  Continuing education is the key to keeping staff and dogs engaged with each other.
Quick Train allows our Waggers to learn something new and breaks up their playtime.  It also helps build a strong bond between our staff and the dogs.   We always use Zukes Mini Salmon Treats during Quick Train.
We also offer Day School lessons for your dog, which are different from our complimentary Quick Train.
Day School lessons are formal lessons where the dog works one-on-one with a trainer, generally away from the play floor.
Almost anything can be worked on during Day School lessons – like basic obedience, fun tricks, and sport dog.  Day School lessons are a paid add-on, while our Quick Train sessions are complimentary to dogs in daycare.
All in all, having activity-based daycare is great for your pup.
Not only does it provide plenty of physical and mental stimulation, but it also allows them to learn new skills.
Check out some of our Yappy Hour toys!