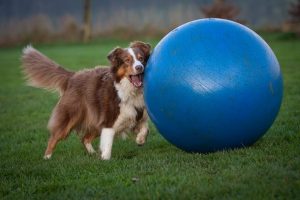 Treibball
Treibball (also known as drive ball) is a new and very fun dog sport.
Herding and Sporting dogs are natural candidates, but so are any dogs that like to play with balls and dogs that enjoy shaping games. Treibball is a terrific new way to play with your dog. The game consists of "herding" a number of large inflatable exercise balls into a soccer-like net.
In our classes, you will learn how to train the building-block behaviors (targeting, directionals, distance) and how to put it all together.
Class Rules & Requirements:
One handler per dog in class but entire family welcome to attend
Well-behaved children over the age of 6 are welcome to attend. Any child under 18 must be accompanied by an adult. No more than 2 children per family allowed.
No out of control, aggressive, or wild dogs
Instructor/student ratio is 1:6
No Choke Chains or Electronic Collars allowed on site
Prerequisite: Puppy Class, Obedience Level 1, or pre-approval by instructor required
Class is 5 weeks long, $125.
REGISTER FOR TREIBBALL