Rally Obedience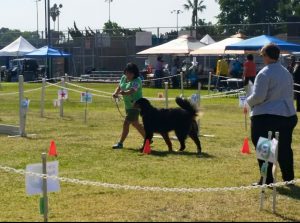 AKC Rally Obedience is a sport where you and your dog navigate a course together as a team, side-by-side. The course consists of 10-20 different signs. Each of these signs provides directions for the next skill to be performed.
It's a fun way to work on focus and attention with your dog while giving you something new and challenging to do together! A lot of the exercises in the course even have real-life applications.
Our Rally Obedience course will teach you all of the behaviors necessary for AKC Rally!
Class Rules
One handler per dog in class but entire family welcome to attend
Well-behaved children over the age of 6 are welcome to attend. Any child under 18 must be accompanied by an adult. No more than 2 children per family allowed.
No out of control, aggressive, or wild dogs
Instructor/student ratio is 1:8
No Choke Chains or Electronic Collars allowed on site
Prerequisite: Puppy, Level 1 Obedience OR Pre-approval by Instructor required
Classes are 5 weeks long, $175
REGISTER