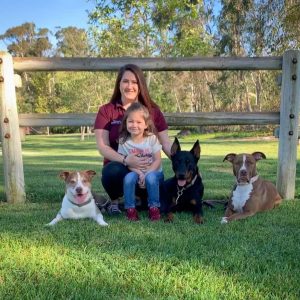 Santanna Vega


Facility Manager

I joined the Wags & Wiggles team at the beginning of 2012 after looking to switch fields from rescue work. I immediately fell in love with Wags based on their candor and openness to all dogs and their families; an openness to meet and asses each dog personally and professionally.

I initially started in the play area and quickly moved up to supervisor. I then moved into the front office after expressing my desire to get to know the parents of the dogs I had grown to love so much.

I officially joined the management team in 2015 after my husband and I welcomed our daughter.  Most recently I do more behind the scenes work with staff relations and staff training. In addition to one stellar human child, I also have 3 fur kiddos: Brantley, Raleigh and Valor; all of whom I thank daily for the endless supply of laughs. When I'm not at Wags, my hubby and I are always taking the family on new adventures.
Misty Gross
Manager
I started out on the play floor as a daycare attendant at Wags and Wiggles and loved the personal time with all of the dogs! Getting promoted to the management team only allowed me to be further involved with every facet in the facility.
The unique attention and approach that Wags and Wiggles takes every day furthers my knowledge as I continue​ to grow with the company. I have a Basset hound named Ruth and have enjoyed having all the help with my first dog from my fellow co-workers.
Although my hair color changes frequently, the amount of personality and friendliness I exhibit never does. In my spare time I enjoy spending time with my daughter and reading books/comics!
Susan Yu
Manager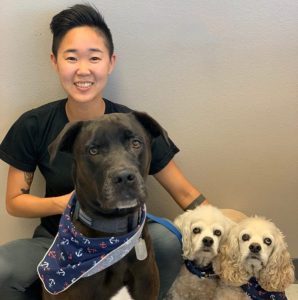 I was born and raised in Pismo Beach and then moved to southern California back in 2004. I studied Kinesiology at Cal State Fullerton. I've always been into fitness and sports and I have served in the Army Reserves.
I have always loved dogs as a kid, but my love for them grew more than ever as an adult. I have three dogs: two 13-year-old Cocker Spaniels named Jenny and Julie, and one 5-year-old Lab mix named Jackson. While I love all dogs, I have a special spot in my heart for the Spaniel family.
I joined the Wags & Wiggles team in the summer of 2015. I started out on the play floor and rotated between our Big Dog and Small Dog rooms. I eventually became part of the maintenance team. Now, I work in the front office as one of the managers.
When I am not at Wags, I love to hike, go to the beach, and take long drives with my dogs. They go everywhere with me and are my rocks! I also love to listen to a variety of music and play guitar. If I am not at home, I'm most likely at the gym.